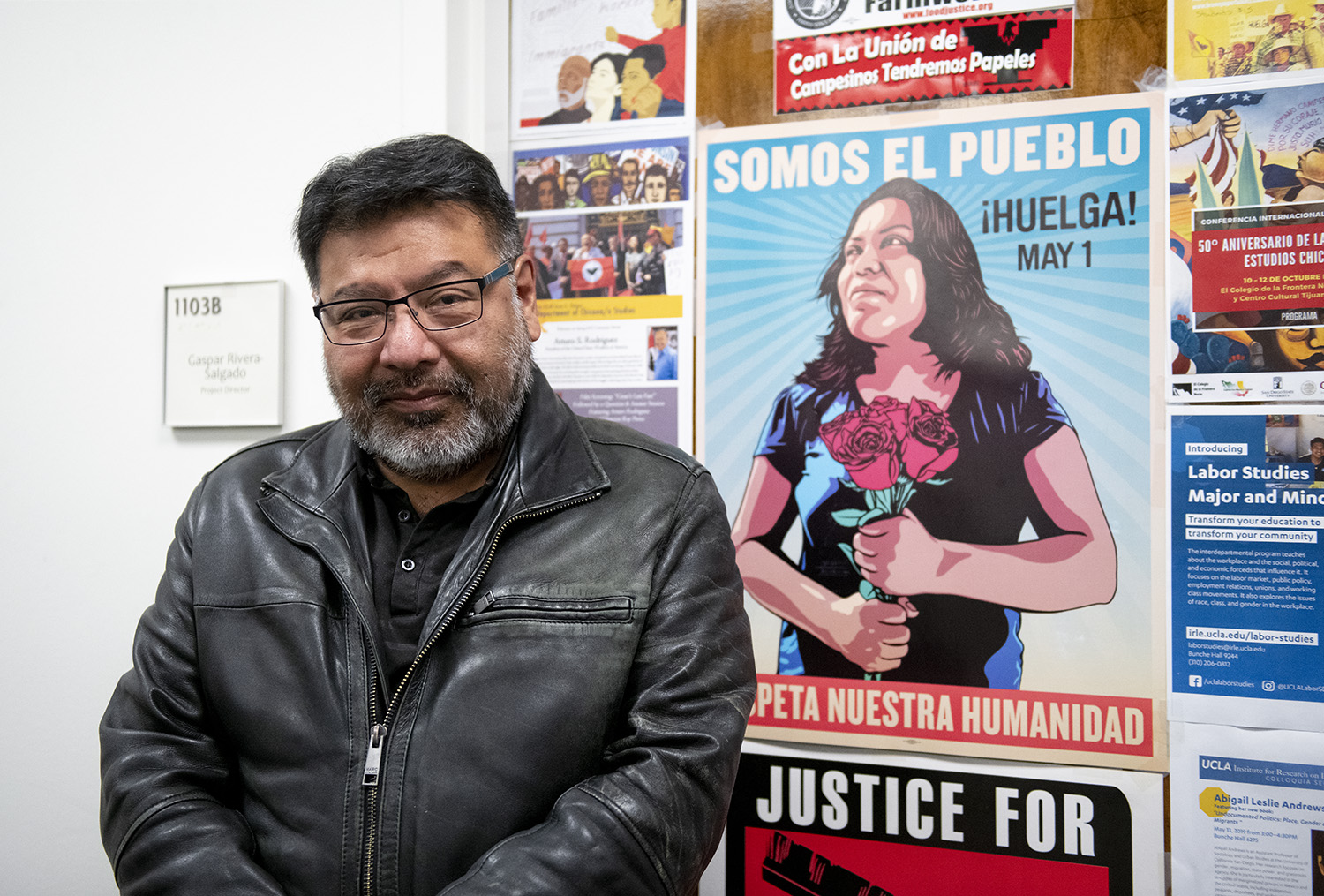 When Gaspar Rivera-Salgado became director of the Center for Mexican Studies, he soon received invitations to collaborate with colleagues from Mexico and the Mexican Consulate General in Los Angeles.
It reminded him of UCLA's impact outside of his own community — and his responsibility, he said.
"UCLA is way beyond the borders of our campus," Rivera-Salgado said.
Rivera-Salgado, lecturer in labor studies and project director at the Labor Center, became director of the Center for Mexican Studies in July 2021. He brought knowledge on labor, migration and social justice, a experience of social movements and a network of academics. and political ties to the post.
The director's role is to create an intellectual space for the UCLA community to discuss and learn about Mexico, Rivera-Salgado said. The director hosts programs on a variety of Mexico-related issues and strives to collaborate with the wider community in Los Angeles and Mexico, he added.
The first program Rivera-Salgado organized as director of the Center marked 500 years since the fall of Tenochtitlan to the Spaniards. The panel brought together a group of indigenous Mexican scholars for a discussion, Rivera-Salgado said.
"A lot of people from Oaxaca showed up and encouraged (on) their intellectuals, their scholars from their home community," Rivera-Salgado said. "It was nice and very gratifying to know that people noticed it."
The Center's work under Rivera-Salgado also fused academic research with political action.
Rivera-Salgado currently helps lead an initiative that forges a partnership between UCLA and three Mexican universities – the Autonomous University of Querétaro, the Autonomous Metropolitan University and the National Autonomous University of Mexico.
The initiative, which began in May 2021, aims to ensure respect for labor rights following the 2020 United States-Mexico-Canada Agreement, which strengthened worker protections. With support from this partnership, each Mexican university plans to develop centers dedicated to the study of labor rights, similar to UCLA's own labor center.
New laws will be enacted and reforms will take place as a result of the USMCA, Rivera-Salgado said. The Center for Mexican Studies and the Labor Center will provide technical assistance to the new Labor Centers as they conduct applied research on these changes, he added.
For example, UCLA organized an international union delegation to Mexico to oversee a union election for General Motors workers on February 1-2. Academics and union representatives will serve as international observers while workers decide who will represent them, Rivera-Salgado said.
"It's the really unique collaboration that we have – academia with union representatives – to really have a direct impact on what's happening on the ground," Rivera-Salgado said. "It's history in the making."
Cindy Fan, vice-rector for international studies and global engagement, said she was impressed with Rivera-Salgado's dedication to the initiative.
One of the strengths that led to Rivera-Salgado's appointment was his ability to cultivate strong people relationships, both in Los Angeles and beyond, Fan said.
Citlalli Chávez-Nava, director of communications for the Institute for Labor and Employment Research, remembers Rivera-Salgado's willingness to offer support even before they were colleagues at the Institute. As an alumnus, she and a friend met with Rivera-Salgado over lunch to discuss an idea for a musical initiative. Rivera-Salgado offered advice and ideas for collaboration, she said.
"Sometimes when you're a first-generation student, I think talking to a professor or the director of an institute, it can be intimidating and intimidating at first," Chávez-Nava said. "But with Dr. Salgado, he's so open to talking to anyone."
Rivera-Salgado is open and attentive to new ideas and ready to support in any way possible, Chávez-Nava said.
"He really understands the essence of the university as a public resource, and I think he makes himself available to the public that way," Chávez-Nava said.
Rivera-Salgado said he will continue to promote scientific and public discussion through the Center's panels this spring. He added that he plans to focus on the evolving relationship between Mexico and migration, with events that will explore topics such as the effect of the pandemic on the future of work and migration in Mexico.
Many people want to be educated about these topics in a thoughtful and thoughtful way, Rivera-Salgado said. The Center will continue to provide this resource, he added.
"I want to strengthen our teaching of Mexico, but I also want to strengthen our direct ties with Mexico and integrate students in this field," he said.
He hopes to bring student delegations to the US-Mexico border to research immigration issues, Rivera-Salgado said. The project will take place in a binational labor observatory that UCLA and the College of the Northern Frontier, a partner university in Tijuana, are working together to set up.
Fan had not worked closely with Rivera-Salgado prior to his appointment. The praise from people affiliated with the Center assured him that he would continue to serve the community well as a director, Fan said.
"There was no doubt in my mind that he was the best candidate for this job," Fan said.